S14535
Transparent basketball backboard 1.80x1.05m. 15mm thickness
Rectangular transparent methacrylate basketball competition backboard.
Dimensions: 1.80m x 1.05m, with white markings and white outline.
label.lb_specifications
| | |
| --- | --- |
| Height | 1.05m |
| Length | 1.80m |
| Thickness | 15mm |
| Material | Transparent methacrylate |
label.lb_description
Regulation basketball backboard in transparent methacrylate.
This product is ideal for indoor outdoor competitions, clubs and schools.
Dimensions: 1800mm x 1050mm in rectangular White markings and outline. Pre-drilled for Basketball ring fasteners (hole spacing: 110mm horizontally, 90mm vertically)
If you plan on mounting this backboard to an older basketball post, make sure beforehand that there is a metallic frame to support the backboard.
The standards specifies that the hoop must be directly fastened to the head of the post, thus avoiding stress on the backboard. Suited for Standard EN1270 compliant basketball goals.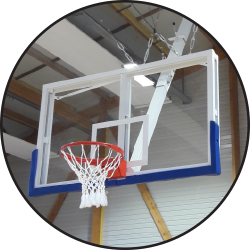 The fact of being transparent is ideal for the spectators' vision.
Provide a clear vision for spectators can watch the match from all directions.